In Memorium
Dedicated to our fallen members
who served their country in time of war
and in time of peace.
Now they guard the streets of heaven.
Master Sergeant Wesley Morrett
Team Founder
M/Sgt. Wesley Morrett USMC 1942-1963
MCRD San Diego Ca. Plt 383
Tarawa, 2nd Marine Div.
E Batt 2nd Bn. 10th Marines
Guam, Guadalcanal, Viet Nam 5th Marines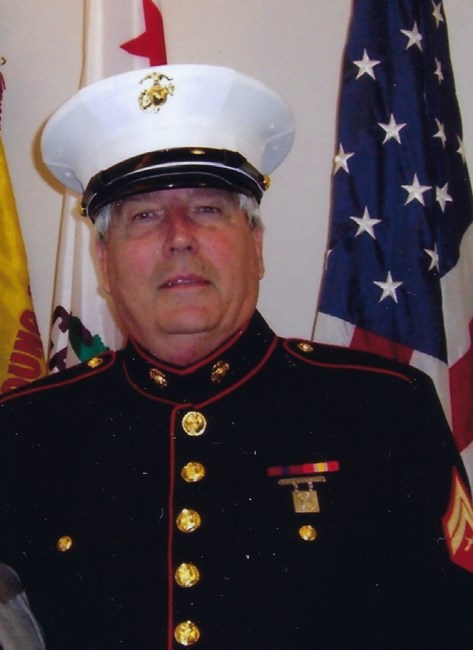 August 24, 1941 to May 9, 2019 - 77 years old
USMC 1958 - 1962
Richard Tyson Burns of Upland, CA, passed away on Thursday, May 9, 2019. Richard served in the United States Marine Corps. from 1958 to 1962. Later in his life he volunteered for 12 years with Semper Fi Memorial Honor Detail of Riverside National Cemetery. He has always served his community through the Los Angeles County Sheriffs Department, Search and Rescue, Los Angeles County Department of Children and Family Services Emancipated Minor Program, Sons of Union Veterans of the Civil War, and other social services.
Richard leaves his wife Margaret, sisters Janet and Lynn, his daughter Valerie, his sons David, Tyson, Tate, Michael, Manny, Steven and Christopher, and his 14 grandchildren. Richard will be so very missed by his family and friends.
Services will be held at the Riverside National Cemetery at 2 pm on Tuesday, May 21, 2019, at Staging Area 7, 22495 Van Buren Blvd., Riverside, CA.
In lieu of flowers, the family asks that you make a donation to Semper Fi at Riverside National Cemetery.
Sgt. Elmer Pfonner USMC 1950-1955
MCRD Parris Island S.C. Plt
Camp Lejeune N.C> CAmp Pendleton CA.
Korea, Haiti, Cuba, Panama
April 12, 1933 - Feb 18, 2018
Original SF#1 member
ELMER F. PFONNER
With great sadness the family of Elmer F. Pfonner announce his February 17, 2018 passing. At age 84 surrounded by family and dear friends he was overcome by a brief undiagnosed illness in Redlands, CA.
Born April 12, 1933 in Tonawanda, NY to Elmer G. and Frances 'Kitty' (Harris) Pfonner. Elmer was a graduate of Kenmore High School in Buffalo, NY. He prematurely entered the Marine Corp in 1950 serving 3 years and is a Korean war combat veteran. Married February 18, 1956 to Iona (Parker) Pfonner who preceded him in death after 57 years of a beautiful marriage together. Elmer and Iona moved their young family to California in 1960.
Elmer was a Freemason, Past Master, Golden Veteran Award recipient for 50 years of service and recently awarded the Hiram Award, the highest honor bestowed on a Mason by his Blue Lodge. He is a founding member of the Semper Fi Honor Guard for Riverside National Cemetery.
He loved swimming every morning with his friends at Sun Lakes Country Club. Another favorite pasttime was playing the role of Santa Claus with Iona as Mrs. Claus for many years for hundreds of children.
He was such an amazing man - loving, funny, plain spoken, genuine, heart connected, loved the Lord, and his country. A staunch
Republican, with the greatest laugh that we will always remember.
Elmer will forever be loved by those he preceded in death: his children, Dorothy Serna, Dwight Pfonner (Raquel), Dawn Anthony (Matthew), Diane Schaller (Chris), John Pfonner (Jessica); his grandchildren Jennifer Wood, Greg Pfonner, Stephanie Rea, Justin Anthony, Jared Anthony, Allison Frith-Smith, Koby Pfonner, Devon Schaller, Jackson Schaller; his great grandchildren, Kyle, Emma, Sara, Hunter, Thomas, and his dear friend Carol Piercy.
A celebration of Elmer's life will be held on Wednesday, February 28 at promptly 10:30 at Riverside National Cemetery, Staging #9, Shelter G, 22495 Van Buren Blvd., Riverside, with a reception immediately following at his Masonic Lodge, 131 Cajon St, Redlands.
Memorial donations may be made to: Atypical HUS Foundation, Elmer's youngest granddaughter's ultra rare life-threatening disease. www.ahus.org/donate or Children with Atypical HUS, The Atypical HUS Foundation, 1701 Fairfax Circle, Barnhart, MO 63012 - In the donation notes please put Elmer Pfonner memorial.
---
Copyright (c) 2018 The Press-Enterprise, Edition 2/25/2018 Please read our Privacy Policy and User Agreement. Please review new arbitration language here.
SSgt Robert "Bob" Dugan

Feb 26 1925 - June 1st 2017

Gold Team 2010-2016

1948-'52, Mcrd San Diego, Plt. 99

Camp Pendleton..2nd Bn. 5th. Marines

Recon. Co. 5th Mar.

Marine Detach. USS Juneau CLAA 119
"D" co 2nd Bn. 5th Mar.Machine Plt. Korea, Chosin Reservoir N.O.T.S. China Lake
MSgt. Donald Watson - Gold Team Captain 2013-Present
1945 - 4/21/2017

FMF WESPAC RVN, 1968 and 1969
DI San Diego 1St. Bn A Co, RTR, MCRD. 1970-72
Msgt. Donald Watson
USMC May 1964-May 1986 Retired
Semper Fi#1 Since July 2009
MSGT Donald Lloyd Watson, USMC ret
October 29, 1945 - April 21, 2017
Don Watson grew up in a small town in Kentucky. He enlisted in the Marine Corps in 1964 and served in Vietnam earning numerous decorations including 2 Purple Hearts and the Air Medal with 4 stars. After 13 years in overseas assignments he returned to his primary specialty of Air Traffic Controller and concluded his 22-year career at El Toro Marine Corps Air Station in 1986. He began his "second career" with Boeing Aircraft in 1988, again retiring after 20 years.
While Don was always available for a family member or friend who needed help with a project, he most enjoyed his time with the children in the family. Hiking, boating, travel and regular outings to the baseball game were the highlights of a well-earned retirement. Yet, even in retirement, Don remained committed to his military duties. He belonged to the Semper Fi #1 Memorial Honor Detail, operating at Riverside National Cemetery, where he regularly participated in burial ceremonies for fallen American servicemen from all military branches.
Although he resided in California for over 30 years, Don never lost touch with his Kentucky roots. He made regular visits to his home state where he maintained a close and life-long relationship with his cousins, their families, and his step-father Gene. He is survived by his wife Kathy, his daughter Gina, his son Bill, his step-son Ian, and several grandchildren, nieces, nephews, aunts, and uncles.
Don Watson led a full, active, and honorable life and will be missed by all who knew him. His final services will be held at The Riverside National Cemetery on Saturday, May 27th at 11:00am.
Photos from Don's service courtesy Stacy Lobato (C) 2017 all rights reserved
https://photos.google.com/share/AF1QipMh3dzS4j15IsirjburUCt9-9ya_24vmXRgqVklhy-yCEvR78jN31K-zmkQaFNZpA?key=b21UeS1QNVJWaWtSdTExUUNYZlFnV3F1WVRxbTFn
In accordance with his wishes, and in lieu of flowers, donations may be sent to the Semper Fi #1
c/o Mac McClain at 16130 Red Pony Lane, Riverside, CA 92504.
- See more at: http://obits.ocregister.com/obituaries/orangecounty/obituary.aspx?page=lifestory&pid=185301020#sthash.k3g5kflZ.dpuf
Vice President/Legal Advisor
Sgt. Denne Howard

USMC 1953-1956
MCRD Parris Island S.C. Plt 9A
Instructor MCI 8th &I Washington D.C.





Denne entered in the Marines in Jackson MS in May 1953 - served until May 1956. After boot camp at Parris Island S.C. was sent to HDQTRS MC, Henderson Hall and assigned to The Marine Corps Institute. Served entire enlistment as Instructor in the History & Foreign Languages Section of the Academic School.
In addition to being Vice President, She was our Legal Advisor, and Bugler for the Gold team.

---

Obituary for Denne Howard

Born November 29th, 1931; Died December 29th, 2015

Born in Brandon, Mississippi in 1931, Denne Howard passed away at her home in Rancho Mirage, CA on December 29th, 2015.

Denne played the bugle in high school band and stated that there was a shortage of buglers for military burial services and the high school band was often called upon to play taps. After graduation from high school, she bacame a high school band directorand then enlisted in the Marines for a 3 year term. She chose the Marines because her hero was Louis H. Wilson, a hometown favorite and Congressional Medal of Honor winner.

Denne enlisted in the Marine Corps in May of 1953 and served a three year enlistment during the Korean War. When serving in the Marine Corps she had wanted to be a pilot and she also wanted to be in the United States Marine Band. Neither option was open to women in the 1950's. However, that did not stop Denne. In later years she got her private pilot's license and owned her own small plane and she joined the Marine Honor Guard Semper Fi #1 and played taps for the unit at many ceremonies at the Riverside National Cemetery.

"In those days women were not afforded the same opportunities as men, such as playing in the Marine Corps Band." Denne stated. She was stationed in the Washington, D.C. area and after her discharge moved to Orange County, California where she worked in public safety communications until she retired and then attended law school at Western State University in Fullerton. Denne practiced law for over 20 years with her own estate planning and probate practice. She offered pro bond assistance at Mizell Senior Center in Palm Springs twice a month during that time.

Denne has contributed much to our chapter and I always considered her our "founding mother; since she started organizing the chapter here In the Twentynthe Palms area in 2003. She announced a startup meeting; worked with active duty women Marines and searched but many former and retired Marines/ She organized the paperwork with National and after the chapter started arid then restarted again in 2007; Denne was actively pushing and pulling us into an organized unit.

Denne was one of the original four members in 2007 and served as our treasurer for several years. Denne also represented the chapter at Marine Corps JROTC awards program. She played taps at the memorial services conducted at the Women Marines Association conventions.

On behalf of all members, I know that we can thank her for making us the active chapter thaj we are today. Our chapter will have a special remembrance of Denne at our next Chapter meeting oh January 23rd. I am hoping that most of you can attend and we can share bur memories together as a group.

- Courtesy Women Marine Association Chapter 29 Palms, CA


RANK & NAME: 1st SGT TANSEY, JOHN E.

PARRIS ISLAND, SC. PLATOON NUMBER: 118

SERVICE DATES OR YRS OF SERVICE: 1/1958- 9/83

DECORATIONS & MEDALS: NATIONAL DEFENCE, VIET NAM,
GC, CAR, ACTIVE RESERVE RIBBON

SHOOTING BADGES: RIFLE SHARPSHOOTER, PISTOL EXPERT

DUTY ASSIGNMENTS OR STATIONS:
FOX 2/10,VIEGAS ISLAND, PR,MEDITERANIAN,
OKINAWA, HAWAII,VIET NAM, 3RD MP BN, 3MAR DIV, FLSG-B, 4th MCD,
PHILADELPHIA MCRECRUITING COMMAND

DATE JOINED SEMPER FI #1: FEB 20,2015
Sgt. George Connors USMC 1953-1957
MCRD Parris Island S.C. Plt 267
MCS Quantico Va.
Korea 1st Tank Bn. 1st Marine Division
Camp Pendleton 1st Tank Bn. 1st Marine Division
3/2/1935-7/6/2013
GEORGE K. CONNORS 1935 - 2013 George K. Connors, born in Boston, Massachusetts on March 2, 1935, passed away in Ontario, California on July 6, 2013, at the age 0f 78. George led a life of service to others. At the age of 18 he joined the United States Marine Corps, and served in Korea. He received the National Defense Service Medal, United Nations Service Medal, Korean Service Medal, and Good Conduct Medal. While making his home in Corona, California, he became a leader with the Boy Scouts of America and attained the Order of the Arrow and Silver Beaver awards, the highest honors in adult scouting. When he and his wife moved to Beaumont in 1980 he soon became Explorer Coordinator of the Beaumont Police Explorers, young people interested in law enforcement. This inspired his training to become a Reserve Police Officer with the police department. While in the reserves he was awarded, along with two other officers, the Medal of Valor, and in addition a proclamation from the City of Beaumont, and a commendation from the Los Angeles County Sheriff's Department, for a life-saving rescue from a burning car. It became his dream to become a police officer. This required extensive and rigorous academy training. Although 55 years old at the time, he quit his job as an office machine repair specialist, signed on as a full-time Beaumont Reserve Officer, and went to the Fullerton College Police Academy part-time for ten months, often studying all night. He became an officer for the City of Perris Police Department, then a detective. When Perris contracted with the Riverside County Sheriff's Department, he became a deputy retiring in December 1999. He joined Semper Fi #1 Memorial Honor Detail, a volunteer group of retired and former Marines, who provide full honors for those who have served our country, at Riverside National Cemetery. When for health reasons he could no longer serve that organization, and still passionate about his country and serving others, he joined Desert Edge Post 233 of the Veterans of Foreign Wars in Beaumont. He was hospitalized the last seven months of his life. He is survived by his wife of 37 years, Ann; sons, Brian and George; daughter Kathleen; 5 grandchildren, 1 great grandchild, and 4 stepchildren. He was preceded in death by his brother, John. Viewing will be from 1-5pm, Sunday, July 14, at Weaver Mortuary, 1177 Beaumont Ave., Beaumont. Services will be graveside Monday, July 15 at 9:45am, at Riverside National Cemetery, Staging Area 4, 22495 Van Buren Blvd., Riverside. Arrangements were entrusted to Weaver Mortuary, Beaumont, CA 951-845-1141 To leave condolences or sign the online Guest book, please visit www.weaver- mortuary.com
CWO3 Dan Dyer 1930-2013
USMC Active 1947-1956 USMC Res 1956-1988
Obituary for Daniel "Gunner" Morgan Dyer
Daniel Morgan Dyer was born on March 29, 1930 in the "City of Brotherly Love", Philadelphia, PA. Dan is one of six children born to Samuel and Hilda Dyer. He hails from a long line of warriors. His father, Samuel Dyer, served in the US Navy in World War I. All five of his siblings also served in uniform. His brother, Samuel Jr., served as a Merchant Marine. Another brother, Joseph served in the Marine Corps. His sisters, Elaine Dyer Beckmann and Irene Dyer Olsen, were both US Navy Nurses in World War II. His third sister, Alice Dyer is a retired US Navy Commander, who served a nurse in Vietnam.

Dan attended William Chrisman High School in Independence, MO having graduated in December 1947. Always an advocate of education, Dan earned an Associated Degree in Physical Education and Recreation from Graceland University in Lamoni, Iowa and both a Bachelor of Arts and Master of Arts Degree in Recreation Administration from UC Long Beach. He later graduated from Smith Baptist Seminary, Garden Grove, in 1980, earning a PhD in Business Administration.

On June 18, 1947, Dan enlisted in the Marine Corps undergoing boot camp at Marine Corps Recruit Depot San Diego, CA. After graduation, he attended infantry training school with a MOS of 0300 and was assigned to Sea Duty aboard the USS Valley Forge, CV-45, from 1947-1949. Following duty as a "Sea Going Marine", Dan was stationed at Naval Aviation Detachment, Hastings, NB then transferred to Camp Pendleton, while at Camp Pendleton, Dan was ordered to Korea, where he was assigned to duty with the 1st Battalion, 5th Marines, 1st Marine Division. Dan participated in several operations in Korea including the Pusan Perimeter Defense, Inchon Reservoir, Pohang Guerilla hunt, Operations Killer and Ripper. On December 6th, 1950 while assigned to operations in the Chosin Reservoir, Pohang Guerilla hunt, Operations Killer and RipperDan was wounded in action. Of interesting note, another of the Semper Fi #1 members, Sgt. Robert Dugan, was wounded on the same day. Both Dan and Bob were not, however in the same unit. After recovering from his wounds, Dan returned to the United States on April 25, 1951. From 1952-1955, Dan served as a Marine Recruiter at Port Huron in Flint, Michigan.

In 1955, after a successful tour of duty as a Recruiter, Dan returned to Camp Pendleton and was discharged from the Regular component of the Marine Corps in 1956 he then reenlisted in Marine Corps Reserve.

Dan served in several billets while in the Marine Corps Reserve from Anti-Tank Company, Infantry Platoon Leader, Military Police Officer, Admin Chief and Admin Officer. He also served as the Director of Drill and Ceremonies at the John Brown Military Academy in Signal Hill, CA from 1958 to 1960.

Dan ultimately retired from the Marine Corps Reserve in July 1988 after 41 years of honorable and faithful service, at the rank of Chief Warrant Officer 3.
During his impressive career in the Marine Corps Reserve, Dan also worked for the City of Long Beach and eventually retired as the Parks and Recreation Department Manager after 28 years of service.

As if Dan has not had an active enough life, he was ordained a minister in May of 1980. He served as the Director of Operations for the Campus Crusade for Christ at the Christian Conference Center in Arrowhead Springs from which he retired after nine years of service. Dan still participated in weekly Bible studies at Calvary Chapel in Redlands. Dan's other interests include Golf and ukulele virtuoso.

For five years (2004-2009), Dan's love for motorcycles was only overshadowed by his love for his wife of 61 years, Pat Dyer, his true love. Together they have made the "Run To The Wall" with over 500,000 motorcycles, from California to Washington, DC to remember the over 8,000 POW'/MIA's still unaccounted for from the Korean War.

Dan Also served with the Civil Air Patrol as a Search and Rescue Pilot for 35 years. His flight log has recorded over 1750 hours as a Search and Rescue Pilot and over 450 hours as a Search Observer. Other billets he has served in are, Administrative Officer, Emergency Service Officer, Operations Officer, Deputy Squadron Commander, Squadron Chaplin, Deputy and Group Chaplin, Deputy and Wing Chaplin and Deputy National Chief of Chaplains.

Dan additionally served as a staff member at the Civil Air Patrol National Staff College, Maxwell Air Force Base, for four years, while there, he participated in numerous Cadet Encampments, to include four National Cadet Flight Encampments as their Chaplain. Dan also served as the Chaplain for the National Cadet encampment at the Air Force Academy in Colorado. Dan was twice chosen to escorts Cadets to Belgium and Japan for the International Air Cadet Exchange (IACE). He retired from the Civil Air Patrol on November 1, 2005.

Dan belongs to several professional organizations, which include, Phi Sigma Epsilon, Chosin Few Association, Disabled Veterans Association, ER Coupe Owners Association and Purple Heart Association.

Dan's decorations include 3 Purple Hearts, Combat Action Ribbon, 3 Presidential Unit Citations, Navy Unit Citation, 2 Navy "E" Awards, 3 Marine Corps Good Conduct Medals, 5 Selected Marine Corps Reserve Medals, China Service Medal, National Defense Service Medal, Korean Service Medal with 5 Battle Stars, Armed Forces Expeditionary Medal, Navy Sea Service Deployment Ribbon, Navy and Marine Corps Overseas Service Ribbon, Marine Corps Recruiting Ribbon, Korean Presidential Unit Citation, United Nations Service Medal, United Nations Medal, Korean Service Medal, Rifle and Pistol Expert Badges.

Dan has been a member of Semper Fi #1 and has participated in over 1700 military honors services at Riverside National Cemetery.

Dan has been married to Margaret "Pat" for 61 years. They have three children, Michael Dyer, US Marine Corps Veteran, Rick Schmidt and Shirley Earl. They also have 5 Grandchildren and 2 Great Grandchildren.

Visitation will be May 29, 2013 at 10am with Chapel Service to follow at 11am both at Preciado Funeral Home, 923 W. Mill Street, San Bernardino CA 92410. Interment will follow with Military Honors at Riverside National Cemetery, 12:45 PM, Staging Area #4, 22495 E. Van Buren Blvd. Riverside,CA 92518.
LCpl George Michael Campos
November 9, 1945 - May 9, 2013
Tribute www.patriotridersong.com/georgecampos.htm
Obituary http://www.walkerfunerals.com/pages/obituaries.html
George Michael Campos
November 9, 1945 - May 9, 2013
Age 67, of Murrieta. Entered Into Eternal Rest unexpectedly, the result of an accident while performing a
PGR mission honoring another Veteran. George was a regular Patriot Guard Rider and frequent Ride Captain
for a lot of missions to ensure honor and dignity for our Fallen Heroes. Unfortunately, his family, friends and
associates w/The American Legion Riders "ALR" & Patriot Guard Riders "PGR", fellow Vets, the United
States Marine Corps Memorial Honor Team "Semper Fi #1" (of which George was also a member) & his
Calvary Chapel church family all mourn his untimely passing. While it was known that George had heart
problems, that didn't prevent him from delivering upon his inherited core values from his Vietnam days with
the Corps' -- "Honor, Courage & Commitment". It appears that while riding a mission in Escondido last
Wed. 5/8 George may have suffered a heart attack or stroke which resulted in the crash of his Harley;
subsequently he Entered Eternity Thursday morning just after 0900 at Palomar Medical Center in Escondido.
He went home to the Lord doing what George found pleasure in doing; serving others, especially Vets! In
typical Marine Corps fashion, George was "always" punctual, no-nonsense and to-the-point. He escorted
numerous PGR rides with our Mortuary and never once was any-thing but greatly accomodating, comforting and helpful to the families, skilled and highly professional in delivering dignity and honor for their fallen loved
ones. Born in Chicago, George was raised in Connecticut. He entered the U.S. Marine Corps following high
school graduation and served proudly from 1963 thru 1966, seeing action in Vietnam as a young Lance
Corporal. Proud of his service, George was equally proud of all he would do thereafter in creating his
beautiful family, including a daughter Tracy Flint, two sons; USMC Sergeant Taylor Campos who was in
Afghanistan at the time of the accident and Nick Campos, two grandchildren, Taylor & Jordan, his girlfriend
Lori Browning, brothers Christopher Campos and Roman Mrozinski as well as numerous other wellrespected friends...& ALR & PGR brothers & sisters. He had also been a commercial pilot and real estate
broker. George was also a longtime, faithful parishioner at Calvary Chapel in Murrieta, where he will be
greatly missed by all who knew and loved him. Please see *Funeral Info for his services and feel free to post
online condolences, view images or upload pictures into Memories Gallery. "You will be greatly missed
Brother, Forever remembered, and Eternally rewarded for all you did while here with us. Semper Fidelis!"
Services Celebration of George's Life will be held on THURS 5/16 at 10AM in Calvary Chapel 24225 Monroe Avenue
Murrieta, CA 92562 Interment with Full Military Honors are scheduled for THURS 5/16 at 12:45PM from Staging Area #4 in Riverside
National Cemetery 22495 Van Buren Blvd. Riverside CA 92518
M M 3rd George Jones

USN 1944-1946
USS Ward XP514
3/28/1927 - 9/19/2012
George Edward Jones of Beaumont, California, passed away on September 19, 2012, after a long battle with lymphoma. He leaves a loving wife, Harlene, and three children, Constance, Janice, John, and 6 grandchildren and 1 great grandchild who will miss him dearly.
George was born on March 28, 1927, in Grand Platte, Nebraska to Jesse and Eunice Jones. George grew up in Greeley, Colorado, with his sister Carol. George graduated from Greeley High School, in June, 1944, and immediately enlisted in the US Navy to serve his country in World War II. After training as a machinist at the Navy training center in Idaho, George was assigned as a machinist mate to USS YP-514, in the South Pacific. George left the Navy in 1946, whereupon he attended the University of Denver to study Chemical Engineering.
It was while attending college that George met Nina Maddox, and they were married in August 1947. George moved to Akron, Ohio, in 1950 where he began a career working in the rubber industry. He was raised as a Mason in May, 1951 and remained active in the Masonic Lodge and the Shrine for the rest of his life.
George relocated several times in pursuit of professional advancement, including stays in Framingham, MA, Warwick, RI, Yardley, Pa, and Lima, OH before settling in Anaheim, CA. George finished his career at Titan Industries in Compton, CA where he served as Technical Director from 1979 until he retired in 1992.
Following the passing of his wife, Nina, in 2000, George married the former Harlene Marotto of Huntington Beach CA. George was a lifelong motorcycle enthusiast, and shortly after marrying, he and his new bride Harlene set off on the first of several cross-country tours on George's Goldwing. George enjoyed numerous hobbies over the years, including scuba diving, snow skiing, water skiing, shooting and photography, but it was George's love of music that gave him the most pleasure. After playing the french horn in high school, he taught himself to play guitar, bugle, trumpet and scottish bagpipe.
It was his bagpipe playing for which George was best known later in life. Resplendent in his kilt and sporn, George was often found playing at weddings and funerals, and he loved visiting schools to introduce the children to the sound and history of the unique instrument. George most recently played a key role in the Semper Fi Honor Detail, playing bagpipe for the military funerals of veterans at Riverside National Cemetery. George himself will be interred Thursday, September 27th at 10:00 AM at the Riverside National Cemetery, in a military funeral attended by his fellow Semper Fi Honor Detail.
Cpl. Eddie Solis
Cpl Eddie Solis was a fine Bugler for Semper Fi #1, American Legion and the All-Forces teams at RNC.
He is pictured on the right with his trumpet.
EDUARDO SOLIS Eduardo Solis, age 66, died on Monday Oct. 4th, at Loma Linda VA Hospital after a long battle with diabetes and kidney failure. He was born to Eduardo and Innocencia Solis in Weslaco, Texas. Ed is survived by his wife, Sandra of 37 wonderful years, his sister Josie Acosta from Buena Park and brother Ricky Solis from Fullerton. He also leaves behind his daughters; Elaine Rixe (husband Vic), Mary Runnels (husband Aaron), Rachel Berger, Tammy Smith, Debbie Camberos (husband Miguel) and Karen Dicey (husband Bill). Eddie is also survived by his 15 grandchildren and 7 great-grandchildren and many nieces and nephews. Eddie worked over 30 years as a successful appliance repair technician. Eduardo Solis was a decorated veteran of the Vietnam War. He served four years as an LCPL Marine during the Vietnam era. The discipline and patriotism he learned in the Marines never left him, as friends and family will attest. He was the 1st Commander of VFW post 184 Casa Blanca for two years and was responsible for starting Ysmel Villegas Memorial Honor Detail, team 40. In addition, he was the past commander of American Legion post 289 for two years. Eduardo also was a member of 40/8 Voiture #394 and Marine Corps League #696. He was currently serving as district 21 Chaplain. He has served many years volunteering at the VA hospital and Riverside National Cemetery. He was a highly talented bugler performing many services for his fallen heroes at Riverside National Cemetery and throughout Southern CA. He enjoyed being a bugler and always played with heart. Eddie and Sandra created a beautiful home together in Riverside California and have lived there for 18 years. Eduardo Solis will be buried at Riverside National Cemetery with full military honors on Tuesday, Oct. 12. at 1:00pm. The services will be held at Norco Family Funeral Home at 10:00 am. FD1686 (951) 898-1013
Published in Press-Enterprise from October 10 to October 11, 2010
Cpl Calvin DeNoux

Active Duty 1954-1959

November 17, 1936-July 12, 2010

Semper Fi #1 member since 2007


1954: San Diego Boot Camp

1955: El Toro Marine Base

1956: Treasure Island MP School

1956: Bremerton, WA Guard Duty

1957: Iwakuni, Japan (MP)

1958: K Base HI, MCAS

1959: Cherry Point, NC discharged
DeNOUX Calvin A. DeNoux, Jr., of Yorba Linda, CA, died Monday, July 12, 2010 of cancer at the home of his beloved daughter, Lisa. He was 73. Calvin was born in New Orleans, LA and was a devoted father and grandfather. He served in the USMC and was a proud member of the Semper Fi #1 Memorial Honor Detail. Survivors include: sister, Carolyn DeNoux; daughters: Lisa Wiehebrink and Laura Gorman; four grandchildren and his best friend, Barbara. Services will be held Tuesday, July 20, 2010 at Riverside National Cemetery.
Rest in Peace Cpl. Mike Ramos June 29, 1934-December 7, 2009

Mike Delfin Ramos passed away peacefully on December 7, 2009 at his home in East Highland surrounded by his family. He was born June 29, 1934 in Hurley, New Mexico to Jose & Hortencia Ramos.
He was the youngest of six brothers and two sisters. His father's career with Santa Fe Railroad brought them to live in Colton when he was a young boy.
He attended school in Colton, graduating from Colton High School in 1953 where he was a starting Varsity Basketball player. He served as an altar boy at San Salvador Catholic church from the time he was a young boy until he graduated high school.
Upon graduation, he enlisted in the U.S. Marine Corp and served this country during the Korean War. He then began his career at Norton Air Force Base and retired as the Chief Equal Employment Officer.
In 1956, he married Charlotte Chavez and they resided in Redlands, until she passed away in 1960. In 1972, he married Janna K. Ong. They were married for 28 years until she passed away December 17, 2000.
Mike was best known for his love of life and family. He loved music and played the guitar up to his last days. He shared his gift of music by volunteering at healthcare homes for the elderly, playing the guitar and harmonica.
He had a zest for life that included jumping out of airplanes. He always thought of others before himself. In his last years, he served in the Honor Guard Detail "Semper Fi #1" at Riverside National cemetery.
Mike is survived by his son, Michael A. Ramos, daughter-in-law, Gretchen Ramos, son, Patrick A. Ramos, daughter-in-law, Tracy Ramos, son Sandy Crumrine and grandchildren Michele Burris, Michael P. Ramos, Robert Rodriguez, Amanda Ramos,
Joseph Ramos, Emilee Crumrine and great-grandsons, Christian Burris and Alex Rodriguez. He is also survived by sister, Cecilia Ordaz, San Bernardino and leaves behind many nieces and nephews and many good friends.
Services were held December 18, 2009 at 11:00 a.m. at Riverside National Cemetery, Riverside, Ca.
Sgt. Andy Wong USMC 1975-1984
January 19, 1955 - October 16, 2009
MCRD San Diego Plt 2050
Pensacola Fl.
Misawa Japan, Embassy School
American Ebbassy Nigeria


Sgt. Andrew Wong
January 19, 1955-October 16, 2009
WONG, Andrew, 54, of Colton, CA, passed away surrounded by family and friends, Friday, October 16, 2009 in San Diego, after a brief battle with Leukemia. Born January 19, 1955 in Tucson, AZ. He resided in Tucson until joining the Marine Corps in 1975. As a Marine, he proudly served his country as a Cryptologist in Japan and Marine Security Guard in Nigeria and Switzerland. Upon leaving the Marines in 1980, he moved to Southern California and began a career in law enforcement and security. He was preceded in death by his father, Joe Wong. Survived by his mother, Marion; wife, Nan; children, Jason and Christopher, sons of Carrie Wong; brothers, Daniel (Leslie) and Sanford (Sally); nephew and nieces, Derek, Jamie and Megan as well as his extended family and friends. Services will be held on Saturday, October 24, 11:00 a.m., EVERGREEN MORTUARY. Interment will follow in Evergreen Cemetery. Visitation will be on Friday, October 23, 2009 from 5:00 to 8:00 p.m. In lieu of flowers, donations may be made to the Leukemia and Lymphoma Society or to the American Cancer Society in memory of Andrew Wong.
Rest in peace our brother!
Sgt. William "Bill" Bowden
October 15, 1937 - October 26, 2000
Sgt. Sam Mansolino USAF
January 16, 1933 - March 7, 2002
Cpl. Julius "Buckles" Konikow
February 12, 1921 - January 13, 2003

USMC 1942 - 1946
MCRD San Diego Ca. Plt 142
2nd Marine Raider Bn. Bougainville
2nd Marine Raider Bn. Eniwetok Atoll
1st Marine Brigade Guam



Sgt. Jim Stephenson
October 01, 1931-April 23, 2006

USMC 1948-1957
MCRD San Diego Ca Plt
MCS Quantico Va.
Camp Pendleton Ca. 4th Marines Guam
1st Marines Div Japan
1st Marines Div Korea


Cpl. Lynn "Woody" Wood
May 11, 1926 - September 02, 2006
USMC 1943 - 1946
MCRD San Diego Ca. Plt 1057
China, Okinawa Japan,
China Lake Ca.




M/Sgt. Joseph W. Morse
8/16/1917-6/27/2008

USMC 1935-1967
Joe served in Guadalcanal,
China, Japan and Korea.
Joe was one of the original member
of Semper Fi #1, to give military honors
to fallen warriors, of all service branches.
Cpl. Tom Magee USMC 1944-1946
MCRD San Diego Plt 710
China Marine, Gaum,
Saipan, Okinawa, MCB Camp Pendleton Ca.

Walter Lencki
Jan 5, 1934 - Dec 24, 2012
Statement of Congresswoman Mary Bono Mack
Honoring Walter E. Lencki
Mr. Speaker, I rise today to honor the memory of a great American, my friend, Walter E. Lencki. Sadly, Walt passed away on December 24 of this year at the age of 78. Our nation has lost a true patriot.
Walt dedicated his life to service; to our country, to his community and to the people he loved. Born January 5, 1934 and raised in Chicago, Walt attended Catholic schools and upon graduating enlisted in the U.S. Marine Corps. He served his nation proudly in the Korean conflict and earned the respect of his fellow Marines and his family. After being awarded an honorary discharge from the Corps, he joined his family in relocating to California, where he made his home for many years.
After working briefly in sales, Walt found his true calling and joined the Burbank, California, police force where he quickly rose to the rank of homicide detective. His expertise made him an invaluable instructor to police and other first responders, and he later shared his knowledge as a teacher at several colleges in California.
I came to know Walt when he once again displayed his desire to serve his military comrades and their families by helping to found and organize the Semper Fi #1 Memorial Honor Guard at Riverside Memorial Cemetery in Riverside, California, to honor fallen Veterans who would otherwise not have received the military honors they had earned in service to our nation. Walt served as a charter member of this proud group of Marines, and again used his expertise as a trainer to those who also sought to join this volunteer group.
It was a great honor to support the efforts of Walt and Semper Fi #1 Memorial Honor Guard, and it was clear that Walt's love of country and respect for service was a driving force behind the establishment of this outstanding organization.
Walt is survived by his loving wife, Oksana, who he married in May of 2009 in Portland, Oregon, near the community of Roseberg where he had retired, his children Denise Fejtek and her husband, Paul, Douglas Lencki, and Daniel Lencki and his wife, Renee and his grandson, Ryan and Oksana's son, Nazar Davyda.
I extend my deepest sympathy to Oksana and the entire Lencki family and hope that they will find comfort in the memory of the time they shared with this remarkable man. I ask that my colleagues join me in honoring the memory of this proud Marine and patriotic American. His life of service and devotion to our nation inspired me and countless others, and his legacy will live on in his beloved Marine Corps and his family.
Thank you, Walt , or your service and friendship. Mr. Speaker, I yield back.
Till the last landings are made and we stand unafraid
On a shore which no mortal has seen
Till the last bugle call plays taps for us all
Semper Fidelis Marine.